The U type marine rubber fender is typically mounted to a dock or a ship to counteract the collision force between the dock and the ship generated during mooring and berthing, thus preventing ships and docks from being damaged.

Characteristics of Rubber Fender
1. This type of rubber fender features high energy absorption performance and proper reaction force.
2. With high strength construction parts, it offers long service life.
3. It is easy for replacement.
Structure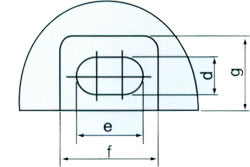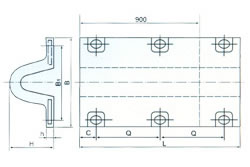 Specifications of U Type Marine Fender
Type
H
h
B
B1
C
Q
e
f
d
g
U300H×1500L
300
35
540
430
150
600
60
90
32
80
U300H×900L
Performance
Reaction Force
Unit
Measured data
Compressive Deflection
50.0%
Tons/M
33
Compressive Deflection
62.5%
Tons/M
40
Energy Absorption
Compressive Deflection
50.0%
Tons/M
1.6
Compressive Deflection
62.5%
Tons/M
2.9
Performance Curve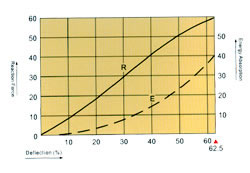 Installation: The metallic parts of this rubber fender is interchangeable with that of our DA-A300H type fender system.
Hengsheng is a major rubber fender manufacturer and supplier in China. Our company supplies an extensive line of products, including a ship rubber fender, supper cell rubber fender, rubber corner packing, automobile woolen felt, shipping facilities rubber sealed product, rubber cushion, and more.