The W type marine rubber fender is typically mounted to a dock or a ship to counteract the collision force between the dock and the ship generated during mooring and berthing, thus preventing ships and docks from being damaged.
Characteristics of Rubber Fender
1. The marine fender offers high energy absorption and low reaction force.
2. It is convenient for installation and maintenance.
Specifications of Rubber Fender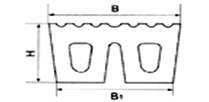 Type
Size(mm)
B
B1
H
L
W300
480
426
300
300-2000
W330
550
420
330
300-2000
W450
500
420
450
300-2000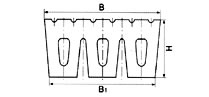 Type
Size(mm)
B
B1
H
L
W300
600
546
300
300-2000
W400
600
550
400
300-2000
Hengsheng is an experienced rubber fender manufacturer and supplier in China. In addition to W type marine fender, we offer square rubber fender, arch rubber fender, rubber seal, rubber gasket, shipping facilities rubber sealed product, automobile rubber products, and more.