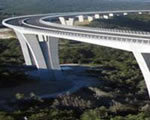 The bridge expansion joint is generally used for bridge construction, achieving good adaptation to expansion and contraction caused by temperature difference. In addition, this product has the function of absorbing vibration, connecting different sections, and reducing bridge damage caused by land subsidence.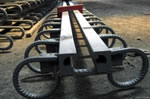 Currently, the bridge expansion joint is becoming increasingly popular all over the world. The utilization of the research achievement enables optimal waterproofness, excellent fatigue resistance, and good durability. In addition, this movement joint requires little maintenance.
Features
1. The bridge expansion joint is a useful product to separate the bridge structure and leave appropriate gap between the two connected parts, realizing free expansion and contraction.
2. Generally, the joint width is from 20 to 40mm, and the joint is filled with thermal insulation material.
3. Designed in simple structure, this product has low height.
4. With optimal expansion and contraction function, the architectural expansion joint is quite safe for use.
5. The easy installation of the bridge construction material helps achieve low construction cost.
6. Customized product is available from us.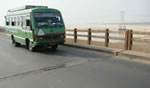 Application
Our bridge expansion joint is applicable for the construction of highway bridge, ramp, multi-storage car park, sidewalk, rail, piping system, ship, just to name a few, to eliminate building damage caused by climate change.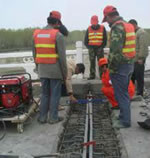 Installation
1. Cut off the product based on practical situation.
2. Slot excavation and cleaning.
3. Drill holes for anchor bolts.
4. Put the rebar mat and the mold in the slot.
5. Bottom concrete pouring
6. Install comb-shaped steel plate
7. Concrete pouring
8. Bridge expansion joint maintenance